Welcome to the Warhammer Gaming Rejects RP Community Wiki
The wiki about
Warhammer Gaming Rejects RP Community
that
only those Loyal to the Lord Nazamroth may edit
.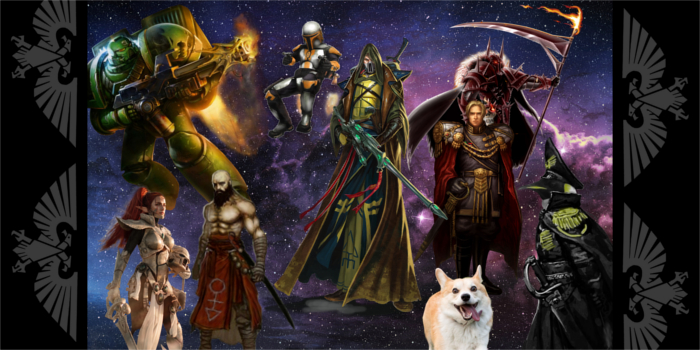 255 articles since refounding in December 2016.
Warp jump to the Forum
Warhammer 40,000 Portal
IN THE GRIM DARKNESS OF THE FAR FUTURE THERE IS ONLY FANON
"Long we have dwelled the realm of Flashgitz as refugees, occupied the comments section of the web comic "Regular Marine", and no man could read the comments for we have been role-playing. Then a new era dawned upon us, Lord Nazamroth led us to a new domain where we would not live as vermins, but the proud natives of our own realm. We have had divisions and departations, but even if the thread is dead, we are alive. While our creations fall apart, we remain standing, enduring despite the grim darkness of the 42nd millennia."
Latest activity
40k, Adeptus Astartes, Battlefleet Gothic, Black Flame, Black Library, the Black Library logo, BL Publishing, Blood Angels, Bloodquest, Blood Bowl, the Blood Bowl logo, The Blood Bowl Spike Device, Cadian, Catachan, Chaos, the Chaos device, the Chaos logo, Citadel, Citadel Device, Cityfight, City of the Damned, Codex, Daemonhunters, Dark Angels, Darkblade, Dark Eldar, Dark Future, Dawn of War, the Double-Headed/Imperial Eagle device, 'Eavy Metal, Eldar, Eldar symbol devices, Epic, Eye of Terror, Fanatic, the Fanatic logo, the Fanatic II logo, Fire Warrior, the Fire Warrior logo, Forge World, Games Workshop, Games Workshop logo, Genestealer, Golden Demon, Gorkamorka, Great Unclean One, GW, GWI, the GWI logo, the Hammer of Sigmar logo, Horned Rat logo, Inferno, Inquisitor, the Inquisitor logo, the Inquisitor device, Inquisitor:Conspiracies, Keeper of Secrets, Khemri, Khorne, the Khorne logo, Kroot, Lord of Change, Marauder, Mordheim, the Mordheim logo, Necromunda, Necromunda stencil logo, Necromunda Plate logo, Necron, Nurgle, the Nurgle logo, Ork, Ork skull devices, Sisters of Battle, Skaven, the Skaven symbol devices, Slaanesh, the Slaanesh logo, Space Hulk, Space Marine, Space Marine chapters, Space Marine chapter logos, Talisman, Tau, the Tau caste designations, Tomb Kings, Trio of Warriors, Twin Tailed Comet Logo, Tyranid, Tyrannid, Tzeentch, the Tzeentch logo, Ultramarines, Warhammer, Warhammer Historical, Warhammer Online, Warhammer 40k Device, Warhammer World logo, Warmaster, White Dwarf, the White Dwarf logo, and all associated marks, names, races, race insignia, characters, vehicles, locations, units, illustrations and images from the Blood Bowl game, the Warhammer world, the Talisaman world, and the Warhammer 40,000 universe are either ®, TM and/or © Copyright Games Workshop Ltd 2000-2016, variably registered in the UK and other countries around the world. All images and instances on this website used without permission. No challenge to their status intended. All Rights Reserved to their respective owners.
Community content is available under
CC-BY-SA
unless otherwise noted.