"There is a cancer eating at the Imperium. With each decade it advances deeper, leaving drained, dead worlds in its wake. This horror, this abomination, has thought and purpose which functions on an unimaginable, galactic scale and all we can do is try to stop the swarms of bio-engineered monsters it unleashes upon us by instinct. We have given the horror a name to salve our fears; we call it the Tyranid race, but if it is aware of us at all it must know us only as Prey."

— Inquisitor Czevak at the Conclave of Har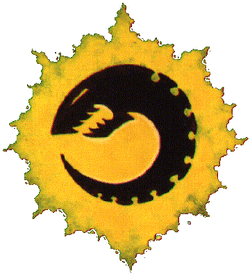 ]The
Tyranids
are an extragalactic composite species of hideous
xenos
that is actually a space-faring ecosystem comprised of innumerable different bioforms which are all variations on the same genetic theme. The Tyranid race is ultimately dedicated solely to its own survival, propagation and evolutionary advancement. The Tyranids collectively form a monstrous superorganism that travels across the universe in their great
Hive Fleet
s of biomechanical
Hive Ship
s, systematically consuming all other biomatter to enable its own rapid evolution and reproduction. All Tyranid organisms are synaptic (psychically-reactive), and each Tyranid creature within a Hive Fleet shares and contributes to a communal
Hive Mind
, which allows the trillions of beings comprising the Tyranid Hive Fleets to communicate and organise instantaneously on a staggering scale.
The mentality of the Tyranid approach to warfare can be described with the phrase "quantity has a quality all its own". From the "lowly" Ripper, to the deadly Hive Tyrant and beyond, the signature of the Tyranid species is that they overwhelm their foes with sheer numbers, reproducing massive numbers of highly virulent organisms in record time from the biochemical soup that they derive from the biospheres of the worlds that they consume. The components of a Tyranid Hive Fleet travel almost exclusively in large groups known as swarms that possess specialized biomechanical creatures for destroying and consuming a wide variety of prey life forms. Tyranids have evolved sophisticated methods for facilitating genetic transfer across species boundaries. As a result, a significant goal of any Tyranid invasion is acquisition of useful new biological traits from other lifeforms. These are used by the Hive Mind to enhance the Tyranids' effectiveness in consuming new worlds to gain more of the necessary organic raw materials for further reproduction. All Tyranids are reproduced by a single, highly intelligent female bioform known as a Norn-Queen. A Hive Fleet's Norn-Queens are the most important Tyranids within the fleet, for if they are injured or killed the Tyranids cannot reproduce their numbers from the captured bio-mass. As a result, Norn-Queens can be found only at the heart of the largest and most-well defended Tyranid Hive Ships.
The Tyranids were initially described in the 1st Edition of Warhammer 40,000 (Rogue Trader), with their basic form not too different from that used today. Their only additional troop type was an enslaved alien race, the Zoat. At that time they were not an important race in the Warhammer 40,000 universe. In later editions they became a playable faction in their own right, and it was revealed that the Genestealers (first popularized in Space Hulk) were in fact part of the advance reconnaissance element of the main Tyranid Hive Fleets.
Notable Hive Fleets
Notable Hive Fleets created by our community
Notable Tyranids
Notable Tyranid characters created by our community